What is a postpartum bandage?
The function of any bandage is to support temporarily weakened muscles. Before the birth it is designed to help hold a heavy belly. And when this event has already happened, the task changes, especially if you had to give birth by cesarean section. An elastic belt fitted with special inserts, clasps and snaps, in a word, a bandage after a cesarean section, will help mom:
reduce muscle strain;
reduce physical exertion;
Complete the process of regeneration of the cut tissues faster;
less disturbance to the abdominal muscles while the healing process is underway;
not to worry that internal organs may fall down.
Many women in labor who have been recommended by their doctor to wear a postpartum bandage after a C-section report a better appearance and less noticeable scar.

Who needs it after a C-section and who doesn't
Bandage after cesarean birth is not necessary for all women, and some outright forbidden. You should not wear it on your own initiative, it is necessary to consult a doctor. Usually it is more strongly prescribed if there were any complications during the operation. The rest can wear it if the doctor does not see obvious contraindications.
You cannot wear a bandage after a cesarean section if:
the suture is inflamed or festered;
a woman feels pain in the lower abdomen;
The skin in the bandage area is unhealthy: dermatitis, eczema, irritations, etc;
swelling – in this case the kidneys should not be squeezed;
Mom feels bad because of intestinal problems (flatulence, constipation or diarrhea);
is allergic to the material used for bandages.
Bandages are different
If the cesarean was planned, you can buy a bandage in advance. But even in the case of emergency surgery, moms have the opportunity to choose the best model, each of which has its own advantages:
"belt" – wide, elastic, covers the abdomen up to the hips, well prevents hernia and promotes the formation of a small neat scar;
"pantaloons" – worn like underwear, invisible under clothing, comfortable at home and on walks;
"bermuda" – with a high waist and pants length up to mid-thigh or even to the knees, among other things, promotes weight loss and prevents cellulite;
"mini-skirt" is a ring of elastic material, the upper edge of which is above the waist and the lower at mid-thigh level, tightly holds the internal organs, tightens the muscles.
The belt is considered the most versatile, but the other models are put on more easily.

What to pay attention to when choosing?
In addition to the model, it is important to correctly determine the basic parameters of a postpartum bandage after a cesarean section, so that it was beneficial and did not cause discomfort.
Size. It makes sense to be guided by the standard size of the underwear that the woman wore before childbirth.
Material. Synthetic is cheaper, but it conducts air worse. Cotton, lycra or microfiber are preferable – rather "breathable", dense and elastic.
Accessories. It is better if the bandage will have ties, clasps and other accessories that will help adjust the size, because the figure after childbirth will gradually change, come back to normal.
Comfort. Personal preference of a mother will be found out at the first fitting. Bandage should not creep, or too tight.
How to put on and how to wear a bandage after a cesarean section?
Wondering how to properly put on and how to wear a bandage after a cesarean birth, moms want to know if they will not harm themselves, because the surgical intervention was so recent. Proper use of this device will help to avoid risks.
The bandage should be put on only in the supine position, fixed from the bottom up.
Wear during physical activity, not more than 12 hours a day in total.
Do not wear more than 3 hours in a row – you must take breaks for 20-30 minutes.
In no case do not sleep in a bandage at night.
The total duration of wear is individual, usually up to 6-9 weeks after cesarean.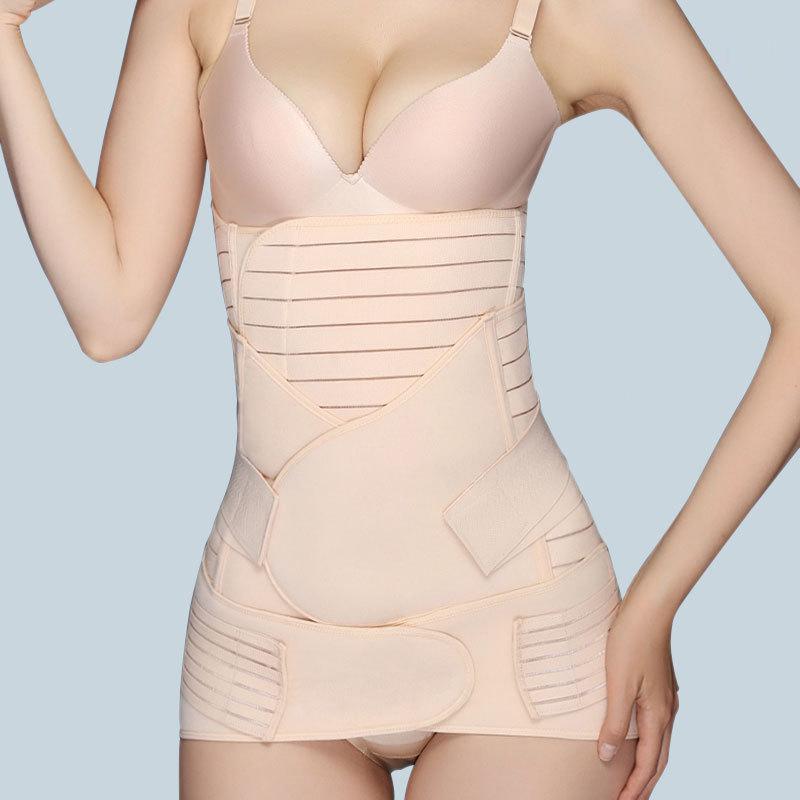 Postpartum bandage after cesarean refers to therapeutic and corrective underwear that helps the body get over the stress more quickly and return to normal functioning. For more information about postpartum bandages, visit the online course at momslab.com.
Workout and nutrition
programs